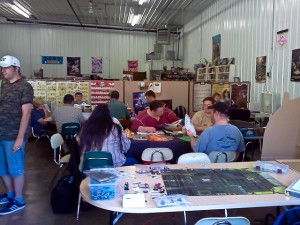 Dungeons and Dragons Role Playing and Miniatures
If you're a die hard D & D player or a D & D minis fan or just interested in learning the games, White Cap Comics and The Outer Limits are your headquarters for Dungeons and Dragons gaming.
Gamers will find the full complement of gaming books, novels (Forgotten Realms, Eberron, Dragon Lance, etc.) as well as magazines, dice, dice bags, and other gaming products (we even sell pop and chips!)
Dungeons and Dragons Miniatures events are on Wednesday evenings at 6 p.m.  and on Saturday there is RPGA (Role Playing Gamers Association) Dungeons and Dragons – call for more information.
Come for the action, stay for the fun.
©1995-2008 Wizards of the Coast, Inc., a subsidiary of Hasbro, Inc. All Rights Reserved.